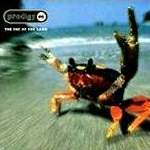 The Fat Of The Land
June 1997



Released on Monday 30th June 1997, The Fat Of The Land was not only the biggest release in the Prodigy's history, but was the biggest release of 1997. Anticipation for this record was incredible, and pre-sales were rumoured to be in the region of 500,000 worldwide. By the time of its release, the group had two number one British singles with "Firestarter" and "Breathe," and had begun to make inroads in America. The Fat of the Land was touted as the album that would bring electronica/techno to a wide American audience; in Britain, the group already had a staggeringly large following that was breathlessly awaiting the album. Liam Howlett toiled on the record for well over a year, which meant that many observers were expecting the album to be an unqualified masterpiece. The Fat of the Land falls short of masterpiece status, but that isn't because it doesn't deliver. Instead, it delivers exactly what anyone would expect: intense hip-hop-derived rhythms, imaginatively reconstructed samples and meaningless shouted lyrics from Keith Flint and Maxim.

| | | | |
| --- | --- | --- | --- |
| Track | Title | Lenght | Written by |
| 1 | Smack my bitch up | 4:23 | L.Howlett, M. Smith, N.Miller |
| 2 | Breathe | 4:34 | L.Howlett, K. Flint, Maxim Reality |
| 3 | Diesel Power | 5:03 | L.Howlett, K. Thornton |
| 4 | Funky Shit | 5:16 | L.Howlett |
| 5 | Serial Thrilla | 5:11 | L.Howlett, Keith Flint, Skin |
| 6 | Mindfields | 5:40 | L.Howlett |
| 7 | Narayan | 9:06 | L.Howlett, C. Millis |
| 8 | Firestarter | 4:40 | L.Howlett, Keith Flint |
| 9 | Climbatize | 6:38 | L.Howlett |
| 10 | Fuel my fire | 4:19 | DJ Sparks/Walsh/James/Knight |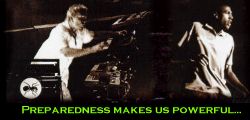 ................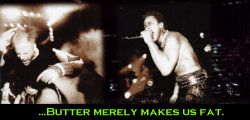 Track 1 : Contains portions of 'Give the Drummer some' by Ultramagnetic M.C.'S -'Critical Breackdown'.

Track 4 : Samples from '2-3 Breack' by the B-Boys and sample from 'Theme from S.W.A.T' by Barry Derorzan.

Track 5 : 'Selling Jesus' by Skunk Anansie

Track 8 : Sample from 'Sos' by Breeders and 'Close to edit' by Art Of Noise.

Track 9 : Contains portion of 'Horn Track' by Egiptian Empire/Tim Taylor



---
TRIVIA BOX
---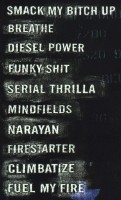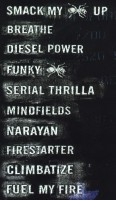 For the US release Maverick wanted Liam to censore/scramble the main sample in the tracks 'Smack My Bitch Up' and 'Funky Shit'. This was ofcourse an unthinkable thing to do for Liam so eventually both parts settled on censoring the cover with ants over the unspeakable words...

Diesel Power was later remixed by Liam in his new studio named the Dirtchamber, thus naming the remix Diesel Power (Dirtchamber Remix). This mix is only available on the XL Sampler CD 'Against the Grain'.






---
CD NOTES
---

Steel?
We have no butter,
But I ask you
Would you rather have butter or guns?
Shall we import lard or steel?
Let me tell you
Prepardness makes us powerful,
Butter merely makes us fat? Lard?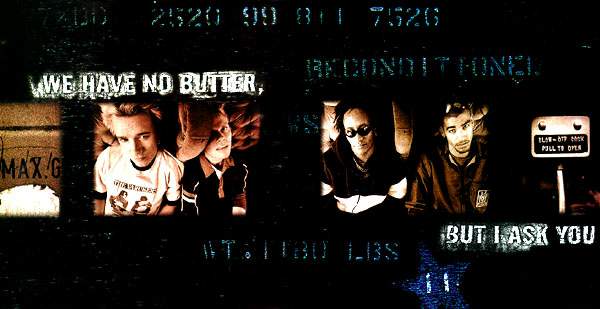 ADDICTED TO NOISE INTERVIEW :
The Fat Of The Land, one of the best albums released thus far in 1997, is something else again. Howlett himself calls it a new kind of rock 'n' roll, and he's right. "Breathe" is up close, in your face punk, only punk riding on electo- dance rhythms. And with cameos from the worlds of hip-hop (Kool Keith) and rock (Kula Shaker's Crispian Mills), Howlett has underlined the one-world nature of the sound he's created.

I spoke with Howlett in late July, a few days after he'd arrived in the U. S. for Prodigy's Lollapalooza dates. I found him to be articulate and frank about the group's sudden success, the roots of their sound, and what they're about.

Addicted To Noise: First of all, I think a lot of people's minds were blown when Fat of the Land debuted at #1 in the U.S. What did you think?

Liam Howlett: The initial shock was a real surprise, you know. Definitely surprised. We were really happy because it just confirmed what we always thought. We knew it would work in the U.S. It worked everywhere else. There's no reason why it shouldn't. So we were just really happy. We were shocked, to be honest. We knew it was gonna go in to the top 10 and possibly in the top 5, judging on the amount of sales we did in that week and stuff. But, I mean, to go into #1, maybe people will take us seriously.

ATN: What did you do when you heard the news?

Howlett: [pause] I can't really remember. It was about one in the morning. Richard [Russell] from XL [XL-Recordings, the English label the group is signed to] phoned me up and he told me. I think I spent like about an hour phoning people around, just saying "Yeah, what'd you think about that?"

ATN: Were you up all night after that? Was it hard to sleep?

Howlett: No, not really, no. I went to sleep about an hour and a half later but I had to enjoy it and just chilled out and went to bed. That was about it.

ATN: The album debuted at #1 in I guess 22 countries?

Howlett:Yes.



---
ALBUM REVIEWS
---
As even the most ardent believers in the "electronic music is the next big thing" debate would be forced to admit, the one gaping hole in their argument has always been the absence of a defining album around which this nascent movement can galvanize.

That hole is about to be filled.

Far moreso than the Chemical Brothers' vaguely disappointing "Dig Your Own Hole" (WHAT??? Disappointing??? – Sentinel) – the last album to shoulder the burden of single-handedly dragging a hitherto underground genre into the bright light of the mainstream – The Prodigy's "The Fat Of The Land" has the intangible feel of a breakthrough album.

Below is an exclusive track-by-track look at "The Fat Of The Land":

1. Smack My Bitch Up
Propelled by a sample from Ultramagnetic M.C.'s "Give The Drummer Some," this throbbing, lyrically offensive track ultimately confounds easy characterization by dissolving into a set of soaring, wordless vocals by Shahin Bada. A provocative opening gambit.

2. Breathe
The new North American single, this will already be familiar to both European fans (it's a former No. 1 song there) and Canadian diehards, who long ago snapped up the import EP. Arguably the most rock-ish track here.

3. Diesel Power
Another potential single, this seamless techno/hip-hop hybrid boasts a blistering rap by Kool Keith.

4. Funky Shit
Opening with the "Oh my God, that's some funky shit" chorus from the Beastie Boys' "Root Down," this also works in an ingenious sample from the theme song of the old gung-ho TV series "S.W.A.T." Also benefits from a particularly insistent, pulsating synth line and an insidious "hey, hey, hey" refrain. The most instantly catchy cut here.

5. Serial Thrilla
Though a planned collaboration with Brit band Skunk Anansie didn't make the cut for the final lineup of The Fat Of The Land, S.A.'s outrageous singer, Skin, and her longtime co-lyricist, Len Arran, do get writing credits on this tune for the sample of the group's "Selling Jesus". Keith Flint's lead vocal ("Serial thrilla/serious killer") is highly reminiscent of his performance on "Firestarter".

6. Mindfields
Once intended as the follow-up single to "Firestarter," leaked copies of this genuinely spooky number have been floating around for months. Immediately recognizable by its one-finger synth intro and the repeated "This is dangerous" refrain.

7. Narayan
One of the album's undeniable stand-outs, this extravagant, nine-minute-plus suite is co-written and sung by Kula Shaker's Crispian Mills, though you may be hard-pressed to recognize hi heavily treated vocals. With Mills delivering suitably enigmatic phrases such as "Your time has come" and "I feel another energy", this moves seamlessly into an extended chant before veering off into a long, instrumental coda and slamming, without pause, into ...

8. Firestarter
The band's official calling card (at least on this continent), this is a slightly different mix than the single. Otherwise, still guaranteed to fill any dancefloor.

9. Climbatize
This is the final track that band mastermind Liam Howlett completed just days before the master tapes were turned over to the label. A swirling, highly percussive instrumental cut with a distinct Eastern flavor.

10. Fuel My Fire
The unexpected album-closer is a raucous cover of the L7 fist-waver, which slaps together a cheesy, roller-rink keyboard riff, a pounding rhythm track, and highly processed guest vocals by Saffron, on loan from Republica (remember last year's addictive almost-hit, "Ready To Go"?). A bizarre and defiant end to an album that delivers exactly what it promises.

(By John Sakamoto, Jam! Showbiz)


---
Few albums were as eagerly anticipated as The Fat of the Land, the Prodigy's long-awaited follow-up to Music for the Jilted Generation. By the time of its release, the group had two number one British singles with "Firestarter" and "Breathe," and had begun to make inroads in America. The Fat of the Land was touted as the album that would bring electronica/techno to a wide American audience; in Britain, the group already had a staggeringly large following that was breathlessly awaiting the album. Liam Howlett toiled on the record for well over a year, which meant that many observers were expecting the album to be an unqualified masterpiece. The Fat of the Land falls short of masterpiece status, but that isn't because it doesn't deliver. Instead, it delivers exactly what anyone would expect: intense hip-hop-derived rhythms, imaginatively reconstructed samples and meaningless shouted lyrics from Keith Flint and Maxim. Half of the album does sound quite similar to "Firestarter," especially when Flint is singing; his hyperactive antics play better live than on record. Still, Howlett is an inventive producer, and he can make empty songs like "Smack My Bitch Up" and "Serial Thrilla" kick with a visceral power, but he is at his best on the funky hip-hop of "Diesel Power" (which is driven by an excellent Kool Keith rap) and "Funky Shit," as well as the mind-bending neo-psychedelia of "Narayan" (featuring guest vocals by Crispian Mills of Kula Shaker) and the blood-curdling cover of L7's "Fuel My Fire," which features vocals by Republica's Saffron. All those guest vocalists mean something -- Howlett is at his best when he's writing for himself or others, not his group's own vocalists. But this is a minor point, because The Fat of the Land, even at its most predictable, is invigorating. "Firestarter" and all of its rewrites capture the fire of the Prodigy at its peak, and the remaining songs have imagination that give the album weight. The Fat of the Land doesn't have quite enough depth or variety to qualify as a flat-out masterpiece, but what it does have to offer is damn good.
Source: Stephen Thomas Erlewine, All-Music Guide