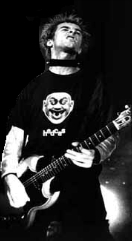 :: Gizz Butt ::

His real name is Graham Butt. 'Gizz' is taken from the punk character 'Gizzard Puke' from The Kenny Everett Television Show. Gizz was replacing former live guitarist Jimmy Davies. He is no stranger to music. Since 1980, he has been in British punk bands such as The Destructers and Wardance. At the moment, he is currently the frontman/vocalist for his own band, Janus Stark (named after a 1970s cult boys' comic character). Gizz, still lives in Peterborough, and knew Maxim back in the 80s. The leather jacket he wears on stage is the same one from his early punk days. During the early 90s when Gizz was 'strapped for cash', he became a guitar teacher at Stamford College. He became enthusiastic about the Prodigy after hearing Jilted on the English Dogs' tour bus, and jumped at the chance to join when he heard from a rock journalist that Liam was auditioning for Jimmy Davies's replacement. Gizz Butt has his own band, which he has been fronting before joining the Prodigy. They play hardcore punk music, although not in an American style like Bad Religion or Pennywise. Two other members of the band are called Pinch and Shop, strangely enough!

The following info is from the official Earache Records site.

Janus Stark take their odd name from a 1970's comic book character. As an alternative, Gizz offers up a more startling meaning; "Janus is the name given to the computer controlling the British defense system. It was a coincidence really but it brings to mind raw, naked dangerous power." Move on to the obvious next question – "Who are Janus Stark?"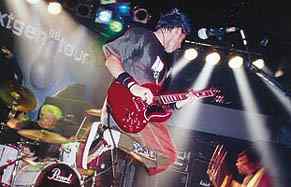 If you're unfamiliar with the name, then study the basics. Fronted by Prodigy live guitarist Gizz Butt, the band ploughed a trail as the English Dogs before writing a song called 'Clique' and changing their approach. Where the older English Dogs material was more abrasive and underground, 'Clique' was more considered, more instant and ultimately more memorable. Encouraged by this, Janus Stark hit a rich vein of songwriting that saw them go for a more accessible sound, with big choruses and meaty hooks that stood head and shoulders above the competition.
The alternative club is the place for Janus Stark," states Gizz. "They might play us inbetween Supergrass and Placebo. The main difference is our songs are like chants, and people will always enjoy the buzz of the chant, it's uplifting, brings people together and it irritates those you want to irritate."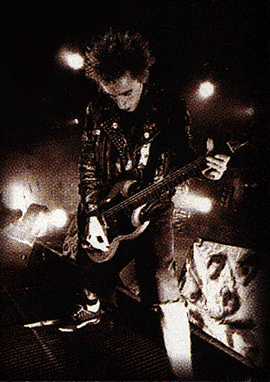 Perhaps Gizz's involvement with the Prodigy gave Janus Stark a world view that was missing before. Whatever the reason things began to happen. A deal was secured with Earache in the middle of '97, and the band put all their energies into the debut album that would become 'Great Adventure Cigar,' with the able help of 3 Colours Red producer Terry Thomas. If a label had to be pinned to Janus Stark's sound, then cutting edge melodic punk would be the simplest, but it doesn't really explain the range of sounds on offer. 'Floyd (What Are You On)' houses a huge chorus underlined with a serious Pixie-esque bass line, whilst 'White Man' is the band's heaviest number, coming on like Helmet with a bad hangover. The album's most insistent track is 'Every Little Thing Counts', a tune that is so persistent that you can't help singing along at the top of your voice before it drove you insane with its infectious chorus. As Gizz rightly points out: "The melodies write themselves, if you know what I mean. It's infectious.""

Stark Marathon:

Janus Stark's album Great Adventure Cigar was on the radio station 102.1 for Milwaukee in the States. They were having a sort of Janus Stark marathon playing all the songs on the album along with Their Law, Breathe, Firestarter, Voodoo People, Poison and Charly. This event started on November 13 1998 (4.00pm Central), and lasted until Nov. 14. It's also a rumor that Prodigy and/or Janus Stark will be playing at the Milwaukee Metal Fest, in the Summer of 1999, don't know that actual date yet tho.

You can find some more info on the Official Site!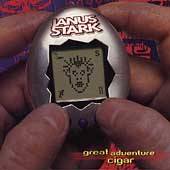 Great Adventure Cigar (tracklisting)
1. Enemy Lines
2. Panic Attack
3. Every LIttle Thing Counts
4. Floyd (What Are You On?)
5. Dynamo
6. White Man Speak With Fork Tongue
7. Clique
8. New Slant on Nothing
9. 200 Duty Frees
10. Barriers


PICTURES WITH THE MAN