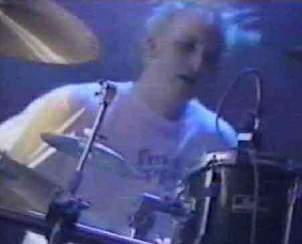 :: Kieron Peeper ::
The Prodigy drummer Kieron Pepper is from Chelmsford, Essex. He has blond spiky hair and has been with the band since December 1997, for the UK shows Kieron came from the unsigned British band realtv, which split up in November. realtv (yes, always spelt in lower case!) had been going for three years and had become great mates with bands such as The Wildhearts and 3 Colours Red (a band who have befriended Gizz).

The first band he was in was Garp, which also failed to attain success.

You can see a brief shot of realtv in the video for Anthem by The Wildhearts.

Keiron is currently moonlighting as a guest sampler/programmer for fusion band No Santa, from Dublin. No Santa, including Keiron, recently supported Gizz's Janus Stark on their recent UK 1998 tour.