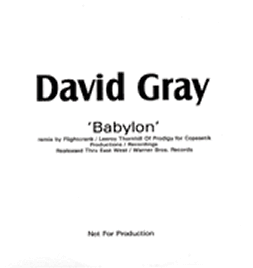 DAVID GRAY - Babylon
(Flightcrank Remix)


SAM00298 10" Vinyl

Side one
Flightcrank Remix (4:59)

Side two
Flightcrank Instrumental (5:01)

Promotional release, most likely from East-West records. Comes in a printed silver sleeve with the text seen below. The vinyl does nowhere state that Babylon is a track by david Gray.


 Babylon (Flightcrank Mix)