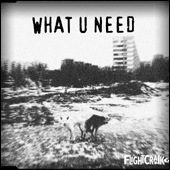 WHAT U NEED


COPA 024/COPA 024X


01. What U Need ( Original Mix)
01. What U Need ( Adamski Mix)
01. What U Need ( Maxim Mix)
01. What U Need ( Genaside II)


Release date 23rd of July 2001
Featuring Charli Tucker

Taken from Flightcrank's debut album "Beyond All Reasonable Doubt" released earlier this year "What You Need" is the second single. After working with musicians such as Lee Scratch Perry, Moby, Kool Keith and David Gray Flightcrank is once again back to bless us with a beat, heavy, hip-hop / dance break beat tune.

Featuring 18-year old vocalist Charli Tucker this single gives us another side of Flightcranks sound. With her smooth vocals Charli makes the track sound so so chilled and mystical.

"What You Need" has also been remixed by non other then, Adamski Maxim (Prodigy) and Geneside II (inventors of drum and bass and break beat).

They all contribute in giving the track a very different touch, the Adamski mix is futuristic and a definite dance track that will make dance floors across the globe get their groove on.

The Maxim mix offres hip-hop heavy beats and again gives this track a different sound. Geneside II's mix gives a very up-tempo drum and bass/break beat feel that makes you wanna get up and move your body!!

During the past year Flightcrank has been DJing up and down the country supporting aces like Finley Quaye and Primal Scream on their UK and Irish Tour as well as Placebo on their Italian tour.

Flightcrank will continue DJing and the following events have now been confirmed. Ocean in Hackney on Wednesday 20th June also feature Mark Lamarr as compere.


[4.6 MB] What U Need (Original Mix)
[6.0 MB] What U Need (Adamski Mix)
[4.3 MB] What U Need (Maxim Mix)
[4.6 MB] What U Need (Genaside II Mix)