April 28, 2002: Coachella Festival, Indio, CA
Click to enlarge: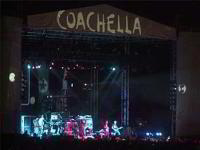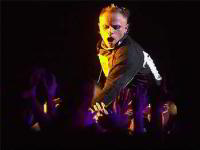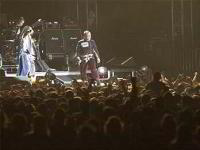 Prodigy Live at Coachella 2002

Tracklist:

01. Army March Intro
02. Their law
03. Trigger
04. Breathe
05. Downtempo fill
06. Smack my bitch up
07. Baby's got a temper
08. Mindfields
09. Nuclear
10. Poison
11. Benny Blanco
12. Firestarter
13. Fuel my fire



The new Prodigy song, 'Baby's got a temper' has changed a lot from his 'Australian Big Day Out' version. It has more guitars and even more lyrics, report Prodigy fans from the US, where Prodigy performed live at Coachella Festival and Las Vegas. [Thanks to Prodigal One for the info]

PRODIGY's return to the US stage after a five-year absence proved the biggest draw on the final day of California's COACHELLA FESTIVAL.

The group, who performed an evening set composed mainly of hits including 'Firestarter' and 'Poison' drew mixed reviews from the day's revellers. It took a while for the estimated 30,000 strong crowd to warm to the group who began their performance with a number of new tracks.

Frontman Maxim Reality seemed frustrated with the lack of response querying "Where the fuck are we? Are we on the West Coast or the East Coast? Where the fuck are we? I didn't come to fuck about."

About a third of the crowd left following the Prodigy, right before Oasis took to the stage for a typical festival set.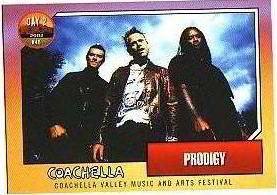 Prodigy vocalist Keith Flint – a napalm bomb of attitude, complete with reverse negative Mohawk and a look that recalled the killer clown from Stephen King's "It" – became the face of techno music, a genre that had been previously criticized for having no face at all, after "Fat" took off. Frankly, it wasn't a pretty sight.

Now he says he's sporting a mullet (though we don't exactly believe him), but he says that he – and The Prodigy – are as furious as ever, and the essence of The Prodigy remains in tact.

The Desert Sun: You performed your first shows in a number of years late last year in Europe. How'd they come off?

Keith Flint: They were fantastic, they were superb. They were just really good. The first show that we did we had a few new songs that we just sort of like trying out just sort of testing them live like we always have done, and it was like (expletive) A, what do we do?

TDS: How'd it feel to be back onstage?

KF: When you do it for 10 years constantly, you always know what you're doing, you develop what you do as you sort of go along. But when you've been away for so long and you don't rehearse, it really helps to just walk out on stage. So the first show was like sort of a testing ground, and it all sort of seemed to come back nice and easy, and off we went with the crowd, and then we did another two dates. We ended up in Holland where it's always been really really good for us, and it was like the crowd was no different, the show was no different than like from any point of view and it came off (expletive) superb. All I know is it didn't seem any different at all. It seemed as good as it's always been, as far as like people and their reaction.

TDS: Could you feel a release of energy from the crowd that they were so happy to have you guys back?

KF: You can't really judge that they're pleased to have you back, if it goes like a good show goes, you can't mistake that they're enjoying it.

TDS: What were you thinking being back out there?

KF: To be quite honest, there was too much thinking going on. When I perform I don't really think, I just try and enjoy myself and it all comes naturally. If there's a little too much thinking involved with anything, you lose a lot of your spontaneity.

TDS:What do you remember about your last tour of the States, in summer '98? We don't tend to bounce here as much as European audiences do.

KF: A lot of the old venues are seated aren't they, and you're very strict about what people can do, the way they can do it and how they can do it. But it's just awesome as a performer or as a band to have the crowd out there before you and having fun. If bouncing is what they do, then bounce away.

TDS: What was your time off like?

KF: It was good. Well, it was bad and it was ugly. It was partying, it was motor cross, and yeah, it was OK. At first it was like, the first year was like I need this year. It was partying, catching up with friends, just the doing normal things which are your life. And then the next year was finally going in the studio and wanting to and not wanting to, and forcing the issue which makes it sort of unnatural and not that fun. And the next year was 'right, let's do this album,' and it takes a year to do an album. You know. We've been touring for 10 years, and we needed the time to just sort of kick back and relax.

TDS: How did the departure of Leeroy Thornhill affect the band?

KF: It was sad to lose him. It was his decision; he went off to write an album and become a producer and do a lot of his own stuff, which he needed the time for. It was good because it was what Leeroy wanted to do, but it wasn't good because I lost someone who makes me laugh on the road and was a companion. But he still comes away with us, he came away recently and DJ'd with us, and we're just best mates anyway and the band would never change you as friends, so it's also good.

TDS: Do you still have the hunger, the anger, the urgency that is the essence of The Prodigy?

KF: Of course. We'll always have that anger. That is what we are, isn't it?

Las Vegas: 3 Bruises on my arms, 2 swollen toes, had a strange person fondle me
Coachella: 4 Bruises on each arm and loss of feeling in areas of my legs
Sum up: I wear my battle wounds with pride, glad to have been apart of the prodigy army. Only if I could rewind back. It was absolutely the most amazing experience. That's all I think I need to say. (Elle)

Coachella was really great, the whole crowd was into it and i think no matter what anyone says it really brought the prodigy back into some peoples eyes. bgat has changed alot too, music and vocals.....and people were buying prodigy shirts left and right after their show (Prodigal One)