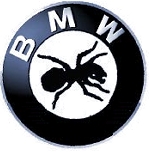 RUMOR:
PRODIGY IN BMW AD
"The new album from Prodigy is finally near. One of the singles from the track is being used by BMW in one of their advertisments.
The wait now finally seems to be over for fans of The Prodigy because at least one track from the long-awaited and now long overdue album "Always Outnumbered Never Outgunned" will feature in brand new BMW TV-ads from July.
The track "Smoke" has been chosen by the ad makers as background music for the new BMW – perhaps this could also be a spur for the band to speed up the production process for their new LP. After all, the fans were already kept on tenterhooks for over a year with the last album "The Fat Of The Land" and had to put up with rumours and excuses...
EMI Publishing plans to supply further songs from their repertoire for TV ads. Perhaps the marketing method of the future?
Taken from: http://www.ivibes.nu/index.php?article=2992