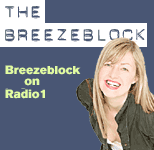 BBC RADIO 1
BREEZEBLOCK
Liam was on the Radio 1 Breezeblock show on BBC Radio 1 [Click to listen again]
Starting at the 19:48:25 mark up to 20:28:46 (just over 40 min). They played 4 tracks: Hotride, Medusa's Path (in the background), Wake up call (stripped down version) and Action Radar (sounds different than the UTE rip, could be longer).

Highlights of the show:
:: March 2003 is when he started writing the album.

:: Liam was thinking of Sex Pistols, Public Enemy and Bomb Squad when writing.

:: "We're not Metallica, we dont consistently knock out the same shit."

:: Hopefully next single is Hotride, says Liam.

:: There are 2 versions of wake up call; the album version of wake up call is the stripped down version, Liam says they are going to have the full rap version with Kool Keith on a b-side to one of the singles.

:: Having Paul Jackson and Ping Pong Bitches with them on tour would make them a bigger gang, would be great

:: Liam thinks the tour is starting in Turkey, going to Japan, Uk (not Wembley, but Brixton for some dates) 3,500-4,000 seat venues

:: Action Radar was the last track he wrote. Used to see Paul Jackson when he picked up rachel at school, liam came up to him and asked him to come to the studio.

:: Was a nightmare to clear 52 samples for Dirtchamber vol 1

:: Liam seconds Marry's notion: "It feels like a Rebirth for Prodigy"