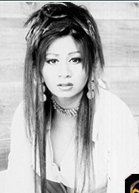 NEW COLLABS!
The female indian singer from "Smack my bitch up" is back! United Kingdom based award winning Indo-Arabic songstress Shahin Badar's vocal inclusions in Lara Croft Tomb Raider 2 Theatrical trailer and Charlie's Angels 1 follow on from successes like club hit 66 Meters , the Prodigy's Smack My Bitch Up and the new track "Get up Get off" to be included on the new album "Always Outnumbered Never Outgunned" that will be released on August 23rd in Europe (and anywhere outside US), and September 14 in the US.
We find also another new collaboration from the article taken from residentadvisor.net : Paul Jackson ('Action Radar')
Source: www.residentadvisor.net/
"The Prodigy, who're infamous for their controversial bitch-smacking-up lyrics are at it again as they have slated the new album for a September release. 'Always Outnumbered, Never Outgunned', is their brand new album which is a trashy, adrenalised, dirty masterpiece of electic music.
The album features some awesome vocal treatment. Names including: Juliette Lewis ('Hot Ride), Princess Superstar ('Memphis Bells'), Ping Pong Bitches ('Girls'), Twista ('Get Up Get Off'), Shahin Badar ( 'Get Up Get Off'), Kool Keith ( 'Wake Up Call', 'You'll Be Under My Wheels'), Liam Gallagher ('Shoot Down') and Paul Jackson ('Action Radar')

They have all provided vocals that have been twisted, abused and treated more like samples turning the final production into something more custom Prodigy-sounding."