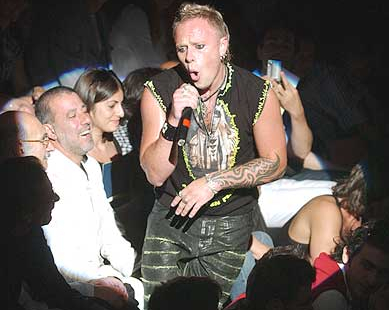 'CLEVER BRAINS FRYIN'

It's the name of Keith Flint's new band. The five piece band (turntablist DJ Jason Laid Back who provides the musical back drop, MC Bad Manner and MC Sir Real, a female vocalist Claire Cherequi and Keith Flint) will be showcasing it's brand new sound for the second time at Global Gathering (Godskitchen) on Saturday 31st July 2004. First live performance was last weekend at Donatella's Versace Fashion parade in Milan (Italy).
Keith Flint and his new band shocked the Versace's public in Milan last week-end. The blonde and sweaty performer first launched among the spectators of the parade, for then to simulate a scene of oral sex with a man and to lick the face of a woman, while all the others implored that he didn't direct toward their place. 'CLEVER BRAINS FRYIN' exhibited before the parade then as a detach between the Versus and the Versace parade. Just in this second occasion, interpreting 'Superstar', Flint jumped among the public, laying down between stunned high society ladies.
'CLEVER BRAINS FRYIN' have been working together in the studio for over ayear and are now ready to get tot he show on the road. The sound is a mish-mash of styles, tough break beat and of course Keith's distinctive vocals'


http://www.godskitchen.com/global.
http://www.studioaperto.it.

Thanks to Rohypnol, Markus, M. James and Neko for the pics, info and links.