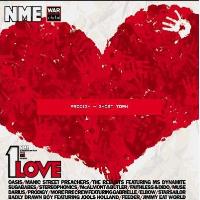 '1 LOVE'

The Prodigy fans had the chance to listen to the whole NME '1 Love' Warchild covers album online for 24 hours on the nme.com website. Prodigy did a cover of the Specials "Ghost Town" and Jimmy Eat World covered Prodigy's "Firestarter".

The album project, which began last month when NME asked a number of contemporary stars to record versions of their favourite Number One singles of all time for a release to benefit the War Child charity, will feature a host of top names. The full line-up is below, with the name of the act they're covering, plus the year it was originally a Number One in the UK, in brackets.

01. Starsailor - 'All Or Nothing' (The Small Faces, 1966)
02. Feeder - 'The Power Of Love' (Frankie Goes To Hollywood, 1984)
04. Sugababes - 'Killer' (Adamski, 1990)
05. The Muse - 'House Of The Rising Son' (The Animals, 1964)
06. Stereophonics - 'Nothing Compares 2 U' (Sinead O' Connor, 1990)
07. Faithless/Dido - 'Dub Be Good 2 Me' (Beats International, 1990)
08. Oasis - 'Merry Xmas Everybody' (Slade, 1973)
09. Elbow 'Something In The Air' (Thunderclap Newman, 1969)
10. Ms Dynamite - 'Back To Life (However Do You Want Me) (Soul II Soul, 1989)
11. Manic Street Preachers - 'Out Of Time' (Chris Farlowe, 1966)
12. Badly Drawn Boy - 'Come On Eileen' (Dexy's Midnight Runners, 1982)
13. Prodigy - 'Ghost Town' (The Specials, 1981)
14. Jimmy Eat World - 'Firestarter' (Prodigy, 1996)
15. McAlmont And Butler - 'Back For Good' (Take That, 1995)
16. Darius - 'Pretty Flamingo' (Manfred Mann, 1966)
17. More Fire Crew -'Dreams' (Gabrielle, 1993)

The album will be released on October 14, 2002.

Thanks a lot to Evans for the link, Denox - my DivX man and Kieth for the audio files. .