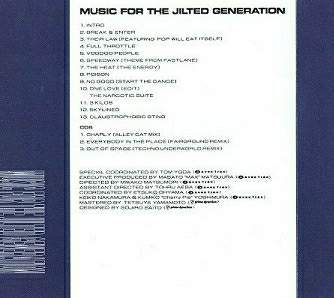 MUSIC FOR THE JLTED GENERATION

SPECIAL JAPANESE EDITION WITH 3" SINGLE

Intro
Break and Enter
Their Law (Featuring Pop will eat itself)
Full Throttle
Voodoo People
Speedway (Theme from Fastlane)
The Heat (The Energy)
Poison
No Good (Start the Dance)
One Love (Edit)

--- THE NARCOTIC SUITE ---
3 Kilos
Skylined
Claustrophobic Sting



This Japanese special 2-CD edition features an extra 3-inch single with three single-only tracks.

Note: Charly (Alley Cat Mix) is sped up, it clocks in at 5:00 mins instead of 5:27 mins.

The sleeve is different, see scans below and it also comes with a sleeve sized info sheet (I guess, it's in Japanese) about the band.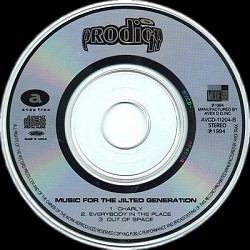 3" CD SINGLE


Charly (Alley Cat Mix)
Everybody in the Place (Fairground Remix)
Out of Space (Techno Underworld Mix)


CD NOTES

A message to Japanese Prodigy fans. Big respect for the support and buying our music. Do not confuse our sound with any commercial rave rubbish, we will remain true to the hard sound we know and love.