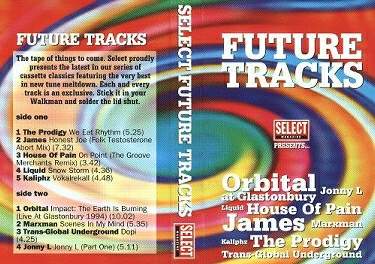 SELECT MAGAZINE PRESENTS: FUTURE TRACKS

The Prodigy - We Eat Rhythm (Original Mix) (5:25)
James - Honest Joe (Folk Testosterone Abort Mix)
House of Pain - On Point (The Groove Merchants Remix)
Liquid - Snow Storm
Kaliphz - Vokalrekall
Orbital - Impact [The Earth is Burning] (Live @ Glastornbury '94)
Marxman - Scenes in my Mind
Trans-Global Underground - Dopi
Jonny L - Jonny l [Part One]


Free Magazine Cassette on the October '94 issue.
This is the only official release of the track We Eat Rhythm.
We Eat Rhythm (Jungle Mix) is featured on the Electronic Punks video. The track was supposed to be on Music for the Jilted Generation but there was no room for it so it had to be left out.



We Eat Rhythm (Unofficial full version by Aquila)