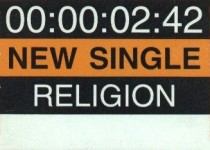 RRE16CDX

Religion (Radio Edit) (3:34)
Religion (6:06)
Religion (The Prodigy Bass Under Siege Mix) (4:44)
Religion (Remix?) (3:40)
Religion (The Prodigy Trance U Down Mix) (4:55)
Crapage (Never Hurry a Murray Mix by Bhe Orb) (5:30)
Crapage (The Turd Mix by The Orb) (5:55)
Religion (Remix 2?)(5:25)

Religon is the best remix Liam has done yet according to himself.
The Trance U Down mix is one of The Prodigy's best tracks ever.


Religion (The Prodigy Trance U Down Mix)
Religion (The Prodigy Bass Under Siege Mix)