XLT -70

A1. What Evil Lurks (4.23)
A2. We Gonna Rock (4.34)

B1. Android (5.03)
B2. Everybody in the Place (3.27)


The first release by The Prodigy consists of 4 tracks from the 10 track demo he gave to XL. About 7-8000 copies were sold and after that no more have been pressed so nowadays WEL is a rarity.

BEWARE OF FAKES!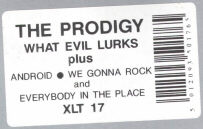 1. Several fakecopies are around of this EP. The only way to be 99% sure that you've got a original copy is to see if it has an inscription on the vinyl center saying: "THE EXCHANGE"

2. There're copies of WEL circulating in a plain black sleeve. Those are most probably fakes. They differ by the track name on side B and the look of the XL logo ;
Original: ANDROID
Fake: A N D R O I D S


What Evil Lurks - Original