Dirtchamber Sessions Volume 1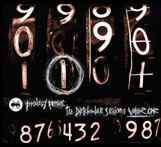 Liam Howlett released his solo DJ Mix album in February 1999, titled Dirtchamber Sessions Volume 1. It contains about 50 cut, scratched, and cross-faded tracks, mixed by Liam himself. It all started near the beginning of October 1998. It was then that UK radio station Radio 1 reported that a few days later the Prodigy's Liam Howlett will be on Radio 1 in Mary-Anne Hobbs' Breezeblock show. It was also implied that he would be playing some stuff, too... On the night of October 12, after a telephone chat, Liam played an hour-long mix of some of his favorite records of the past years on Radio 1. Shortly after the show, some pirate recordings of the mix started to circulate, but unfortunately they were stopped by XL Recordings. The situation seemed hopeless, until the groundbreaking news were published – an extended version of the Breezeblock mix will be officially released! The DJ mix album will come out under the Prodigy name, and will be called the Dirtchamber Sessions Volume 1. And on 22nd February, XL Recordings released Europe-wide the new Liam Howlett album!!! The more attentive Prodigy fans must have noticed that at the beginning of the Smack My Bitch Up video, the girl puts in a CD into the player labeled "Dirt Chamber". Also, one of the few works Liam did in 1998 was the Dirtchamber Remix of Diesel Power. Not to mention that One Man Army was partly made in "The Dirt Chamber, England" (see the Spawn booklet). So the question emerges: what exactly does Dirtchamber mean after all? The answer is simple: it simply means Liam's studio – and thus the expression Dirtchamber Sessions makes sense, especially knowing that this is a studio mix album.


Liam's comments
Before the mix was aired on Radio 1, the presenter, Mary-Anne Hobbs talked to Liam on the phone. Here are some excerpts:
Q: Why did you accept our humble invitation to put a mix together for this show then?
A: Well, I dunno. Before the band started, I was really into sort of mixing and stuff, on a sort of more hip-hop level, and I kind of, always used to do that, sort of, every week I'd do a tape and stuff and give it to my mates and... I dunno, after you asked me to do a mix, I kinda thought "why not?" and sort of just experimenting a few days doing it and kind of make it happen and you know, so yeah I thought I'd do it, yeah, do it.
Q: Is that the way you used to mix as a DJ, I mean just, no rules?

A: Yeah, basically, like, erm, the way I wanted to put this mix together was more, erm, on a sort of old skool tip rather than sort of a club tip, I mean, this mix isn't really for the clubbers, it's more for the b-boys and b-girls, its more from the roots of hip-hop, and... you talk about Barry White, but the record I used was like a kind of famous break, you know, which was used in... a Beastie Boys track and so I've stripped down some of the tracks down to the original breaks and mixed the original breaks into the mix, and I chucked Sex Pistols in there, because, y'know, you have to, don't you really?
Q: Have you got any favourite tracks in this mix tonight, Liam?
A: They're all my favourite tracks! Y'know...that's why I put them in there. I mean basically, like, er, I was definitely on the tip of not wanting to make it too, sort of, erm, "of the moment", you know? I wanted to make it kind of the last 15 to 20 years, all my favourite tracks have sort of gone on. There's a heavy element of old skool in there, 'cos I'm mean, I dunno, one of the things that annoys me at the moment is all this 'old skool reunion; and people don't really understand what the records are, y'know, they just think it's just Run DMC and things like that.