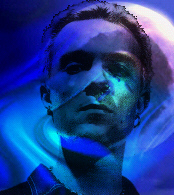 Born date: August 21, 1971
:: When he went to school he learnt break-dancing and danced a lot with his crew Pure City Breakers. He was classically trained to play the piano (he played the piano for 8 years, yet he still can't read notes on a musical scale – he always plays by the ear :-) and used to be a DJ and listen to hip-hop before he started writing his own music.

:: He used to clean cars with Empirion member Jamie at the garage of Jamie's brother. They are still friends and frighten skiers on snowboarding trips .

:: He lived in Braintree for a long time (until the age of 26), but then he moved out of there setting up his studio in the Essex countryside (he didn't like the city (he criticized it openly), coming under fire from the Braintree people, especially those in the City Council.)

:: His father used to ,and still might,run an Industrial Adhesives Factory. (That must come in handy every once in awhile.)

:: He always works alone in his studio, he can write music only if he's on his own and no one else is around – what's more, he works chiefly at night (he usually starts at 10 in the evening) ("I'm a control freak, I have to know I'm in control of the track and no one else can interfere with it." – Liam) And he's also somewhat selfish, writing music chiefly for himself. ("Well, I'm selfish and I write for one person – that's me.[...] I'm not one of these people who think the fans come first." – Liam)

:: He loves making mixes – at the age of 14, he mixed songs recorded from the radio using the pause button on his cassette player. ("Mixing tunes together was just what I always wanted to do." – Liam)

:: He does not like sports, not even football. ("I never liked sport or anything like that" – Liam)

:: He used to be scared shitless of the man in Sweet who used to dress up as a clown. (Clowns are SCAREY!!! I have a clown hating complex, so Bozo stay clear away from me!)

:: He went to his first rave in 1989, at the age of 17, which was held at Essex-based venue called The Barn.

:: He lives in a rural are just ouside Chelmsford, where he's next-door neighbor to Keith. They also have a shared flat near London clubland's nerve centre of Hoxton Square.

:: His very first record was Ska's Greatest Hits, containing tracks from The Selector and The Specials.

:: He loves fast cars – among others, he had a Ford Cortina, a Mercedes Sport and an AC Cobra. His favorite car is the Ferrari F40. ("I'm a bit of a speed freak [...] I'm not a maniac, but I used to go out at night and drive stupid speeds. I'm not a boy racer by any means, but I've always been into that power burst." – Liam)

:: He used to drive a Ford Escort Cosworth, but he had to get rid of it because the police kept on stopping him because they thought that the car was stolen. (Cops, filmed on location nearest to the local donut shops.) And he had the engine so highly tuned that it was seven times over the legal emissions limit!

:: Liam is an avid fan of horror films. Many of his tracks contain samples from films such as "Poltergeist III" (Crazy Man) and "The Shining" (The Heat The Energy). He has a strange collection of horror film in his house, and even a 3' (90 cm.) green rat standing up in his sitting room!.

:: He's a huge fan of Coronation Street, and has his oven timer set to ring the exact moment that it starts!!:) (Do you blame the guy?)

:: He used to study graphic design at school, and his workplaces (before forming the Prodigy) included: a London magazine called Metropolitan and a T-shirt printing factory. Also, he used to work at a construction site, just to save enough money for his first turntable.

:: He hates the Internet, in his opinion it's just a piece of shit, a web of useless information (and he was kind of annoyed when he saw the pictures of his own house on the Net.)

:: He has a cat named Charly..after the groups song "charly."

:: When he's snowboarding he likes to perfect on stunts.

:: He likes to provoke people a lot – as is clearly seen in his/their attitude to people who object to things they do.

:: He is a visual type that is, most of the tracks he writes are inspired by images and atmospheres, which he'd like the listener to experience.

:: His very first record was Ska's Greatest Hits, containing tracks from The Selector and The Specials.

:: He is a Playstation fan (that's why Fat of the Land was delayed by so long).

:: He likes watching porn – at least one of the things he first checks in a hotel is whether there's a porn channel on TV or not... :)

:: He hates faceless techno acts – he finds them sad and insulting.

:: He was never fully happy with Music For The Jilted Generation, he thought only about 6 tracks were right.

:: His favorite record label is Skint (the home of Fatboy Slim).

:: He loves Japanese culture , including bonsai trees and the philosophy behind them.

:: His favorite drink is tequila (which causes him terrible hangovers when drunk with champagne)

:: What success means to him: the success of an album for him is when he shuts the studio door (according to him). He doesn't care that much about album sales – actually he wants to sell albums, but he doesn't want his records to be bought by everyone, like Oasis do.

:: His favorite albums of the 90s are "Mezzanine" by Massive Attack for chilling out ("I just love the feel of it – I don't even think it's dark."), and "Nevermind" by Nirvana for rock.

:: His favoite film of the 90s is "U-Turn" (directed by Oliver Stone), starring Sean Penn and Jennifer Lopez. He thinks the greatest films ever made are "The Wizard of Oz" and "Casino."

:: He loves the "East Enders" and the "Simpsons" TV series, besides "South Park."

:: Liam fears living in America he doesn't understand the place and the mentality of the people.

:: He's really arrogant about being smart..he loves to show off his intelligence to everyone.

:: He really dislikes having his picture taken, he finds it to be "a pain in the ass."

:: Liam told Guest List magazine that they had started a new thrash band named Theatre of Blood. It was a joke.

:: Music he likes: Tom Morello of RATM ("Liam is a big fan of Tom's guitar style and the noises that he comes up with" – NME), John Lydon ("I'm a fan of Lydon" – ATN), Pink Floyd, U2, Red Hot Chili Peppers, Chemical Brothers, Renegade Soundwave, Meat Beat Manifesto, Sex Pistols, Joey Beltran, the ska sounds of the Beat, the Specials, and the Selector, the older stuff of Apollo Four Forty, but for example he is not a fan of Kula Shaker, despite their collaboration ("To be honest, I'm not really a fan of Kula Shaker. I've got to be honest. I think that I'm not really into what they do." – ATN).