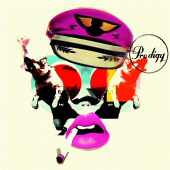 FUCK, IS THIS THE PRODIGY?
This horrible picture could be the new album's cover. If this is true let's hope Liam will change it, like he did with the names of the tracks:
| | | |
| --- | --- | --- |
| Trackname: | Last name: | Featuring: |
| 01. Spitfire | - | ? Juliette Lewis |
| 02. Girls | - | Ping Pong Bitches |
| 03. Memphis Belles | ? Ice | Princess Superstar |
| 04. Get Up Get Off | - | Twista, Shahin Badar |
| 05. Hot Ride | - | Juliette Lewis |
| 06. Wake Up Call | Wake Up | Kool Keith |
| 07. Action Radar | Action | Paul Jackson |
| 08. Medusa's Path | Sandstorm | - |
| 09. Phoenix | Love Buzz / 1965 | - |
| 10. You'll be under my wheels | Smoke | Kool Keith |
| 11. The Way It Is | - | - |
| 12. Shoot Down | The Gun | Oasis brothers |
Release Dates:

World: 23rd August 2004
United States: 14th September 2004
Internet: 23rd August 2004 ;)

Singles:
Girls / Memphis Belles (Double A-sided single): 30th August 2004

Live:
Prodigy on Tour from October 2004
Future B-Sides:

No Souvenirs
Who Your're Fooling
Slang Technology

Additional info:
 "Rock 'N' Roll" the well known live track (on some bootlegs known as 'Brainstorm') is incorporated within "You'll be under my wheels (ex 'Smoke')
 "You'll be under my wheels" (ex 'Smoke') could be the track used for the BMW ad in July.
 The Oasis collaboration rumor was true. Not only Liam, but also his brother Noel plays bass on the song 'Shoot Down' (known as the 'Gun', and the track supposed to have 'Trigger' samples in it).
 Juliette Lewis has collaborated on three songs: 'Twista,' (yet another renamed track) 'Hot Ride' and 'Spitfire' an they were recorded in England in January.


Collaborations that didn't work, confirmed by Liam Howlett:

 Peaches - she didn't have time to finish the track
 Dan 'The Automator' Nakamura -did a remix of "No Souvenirs" that Liam didn't like
 Ping Pong Bitches - were going to be on BGAT but there was no room in the mix for them
The release date:

Pushed to August 23rd, but the japanese HMV store still says August 11th and it will include a bonus track. That's because Japan has a law where records sold there have to differ in some way to the versions sold in other countries. "Music from the jilted generation" had the 3" bonus CD, Maxim's album had the bonus tracks "Prism" and "Hell's Kitchen" (Vocal Mix) as bonus tracks. you can order it here:
http://www.hmv.co.jp/product/detail.asp?sku=1846195
http://eil.com/shop/moreinfo.asp?catalogid=290950
The first Single / LP Sampler


Girlz/Memphis Belles LP Sampler

Release Date: 7 Jun 2004
XL Recordings 12"
Cat.nr. XLT193

A1. Girlz [download]
B2. Memphis Belles [download]

The first known radio play of Girls was on 10th June 2004 on a norwegian station called NRK.

Thanks a lot for the info, links and pics to: Neko and James Jupiter at www.nekozine.co.uk Terminatrix aka Invincible X, El Barto, Posse, Markus, Morpheus, Martin James, people asking what happened to my site, supporting and dissing it. A big thank you goes to my ISP for helping me to get out of trouble with the authority and letting me upload more files adding bandwidth and redirecting web spiders away from my url.