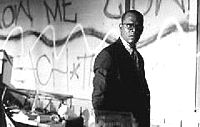 1997 - USA

Director - Kevin Reynolds
In cities across America, schools and playgrounds have become modern war zones. The pursuit of education has been trivialized by the struggle just to stay alive. As children have begun packing firearms instead of textbooks, our educators now seem to function in a perpetual state of emergency. The Warner Brothers/Icon Pictures thriller, 187, explores the nature of one teacher's heroism in a world marked by moral haziness.
Pronounced 'one-eight-seven,' the title refers to the California penal code for homicide. This gripping thriller, directed by Kevin Reynolds and produced by Mel Gibson's Icon Productions, tells of the contemporary urban battlefield that is the public education system. Samuel L. Jackson plays a Los Angeles substitute high school teacher whose life is threatened by the very people he's trying to reach.
Reynolds, best known for Robin Hood: Prince of Thieves and Fandango, in association with Music Supervisor and well-known radio personality Chris Douridas, have gathered together a number of today's most exciting and eclectic artists, mostly in the ambient trip-hop vein, to create a musical atmosphere that mirrors and counterpoints the film's dark storyline and inventive visual look. Significantly, 187 doesn't feature a traditional, composer-driven 'score.' Rather, the film takes place in a cinematic world where the music reflects the reality.
'We set out to avoid the typical approach to film music,' says Douridas. 'To that end, we gathered most of the ideas before the cameras rolled, and very often shot the scenes to the music we selected, thus creating an integral interplay between music and image.'
Among the many cutting-edge artists whose music impacts upon 187 is Wu-Tang Clan-sman Method Man (who appears in the film as the bloodthirsty Dennis Broadway), whose 'Release Yo' Delf' is given a banging remix by techno superstars, The Prodigy. In addition, the Icon/Atlantic-released '187-MUSIC FROM THE MOTION PICTURE' includes songs from Everything But The Girl, sampling master DJ Shadow, and the acid jazz combo Galliano, plus two tracks from the genre's brilliant pioneers, Massive Attack, whose 'Spying Glass' was the first song brought to the film by director Reynolds, setting the sonic tone of 187.
'Since we had no composer as such,' Douridas notes, 'we wanted to find a way to mold the musical choices into a cohesive sound. So we simply combed through every piece of music within the genre inhabited by Massive Attack. During that process, we filtered into our hands several lesser known contributors.' As a result, '187-MUSIC FROM THE MOTION PICTURE' features contributions from such new acts God Within, Bang Bang, and V-Love, who lend the film, and its attendant soundtrack, a sense of surprise and forward motion.
'Very often in film, the music choices are done by committee,' says Douridas. 'In 187, we had the rare and supreme liberty to create a sound that we felt was appropriate for the film. We listened to the story and it told us where to go for the music. It is our hope that while listening to the soundtrack, the story will have a lingering presence and resonance beyond the screen experience.'