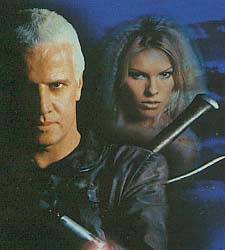 Directed by Graham Baker
Written by Mark Leahy and David Chappe

Starring
Christopher Lambert
Rhona Mitra
Oliver Cotton
Götz Otto
Layla Roberts

Produced by Gregory Cascante, Lawrence Kasanoff and Donald Kushner
Executive Produced by Jane Barclay, Sharon Harel, Peter Locke, and Alison Savitch

Directed by Graham Baker, Beowulf is brought to you from the producers of the semi-popular Mortal Kombat films and has been reinterpreted as a neo-Mad Max inspired post-apocalyptic wasteland were the world seems to have become a hybrid between semi-modern technology and medieval style housing and décor. Also encoring from the Kombat films is the needlessly loud techno based soundtrack that either grabs your attention and never lets go, or quickly becomes the most grating fantasy film score this side of the one used in Ladyhawke. I'll leave it for you to decide which.

This is not a movie where one concerns themselves with the acting ability. Lambert turns in his usual carefree and laidback performance that doesn't stray too far from that of his turns as Connor MacLeod of the clan MacLeod. It could be said that he simply phones his performance in, but I won't be the one who says as much.

Soundtrack

BEOWULF - Jonathan Sloate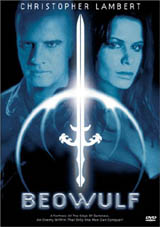 RELIGION - Front 242 (Bass under siege by The Prodigy)
NO ONE GETS OUT OF HER ALIVE - Pig
GUILTY - Gravity Kills (Juno Reactor remix)
GOD IS GOD - Juno Reactor
CYBERDYNE - Fear Factory
UNIVERSE - Laughing US
WITNESS - KMFDM
THE SOUND - Lunatic Calm
DEF BEAT - Junkie XL
EGO BOX - Urban Voodoo
STUTTER KISS - Two
UNFOLDING TOWARDS THE LIGHT - Spirit Feel
CRANIUM HEADS OUT - Mindfeel
DAMMERLING - Frontside
LUV U STILL - Praga Khan
GIVING THE HORNS - Anthrax
LORD 13 - Monster Magnet

Thanks a lot to Klopper for the info.