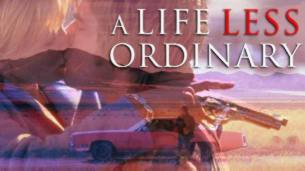 1997 - USA

Director - Danny Boyle


The soundtrack to A Life Less Ordinary contains an all-star roster and includes songs from Ash, Beck, Prodigy, Underworld, Sneaker Pimps, R.E.M. and Squirrel Nut Zippers (among others). Also contained here are classics from Elvis Presley and Bobby Darin.

Robert (Ewan McGregor) is one of life's losers. He works as a janitor in a giant corporation, but dreams of something... less ordinary, while he writes what he hopes will be the great American trash novel.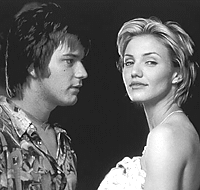 Sharp-tongued Celine (Cameron Diaz) on the other hand, has never wanted for anything in her short and pampered life as the daughter of Robert's boss, Naville (Ian Holm). The grossest indignity she can imagine is having her credit card rejected. But like Robert she's bored.

In a normal life these two souls would never even meet - but who said this story was normal? In heaven two celestial cops (Holly Hunter and Delroy Lindo) are given thetoughest assignment of their career by Gabriel: to make Celine and Robert fall in love.

When two such different lives collide, sparks fly. He kidnaps her - or is it the other way round? Kidnap leads to collaboration - of the bank robbing type. Collaboration leads to something more... or at least that's the plan. But it doesn't appear to be working: rather than falling in love Robert and Celine are bickering, rather than coming together they seem to be falling apart.

01.

Dead Weight - Beck
02.

Love Is Here - Luscious Jackson
03.

Life Less Ordinary - Ash
04.

Velvet Divorce - Sneaker Pimps
05.

Kingdom of Lies - Folk Implosion
06.

Leave [New Version] - R.E.M.
07.

Don't Leave - Faithless
08.

Oh - Underworld
09.

It's War - The Cardigans
10.

Always on My Mind - Elvis Presley
11.

Peace in the Valley by Errol Thompson
12.

Beyond the Sea - Bobby Darin
13.

Put a Lid on It - Squirrel Nut Zippers
14.

Deeper River - Dusted
15.

Full Throttle - The Prodigy