.
The Dancer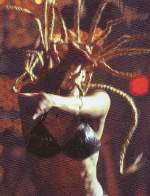 SYNOPSYS:
Mute street dancer India Rey and her brother Jasper struggle to make it in New York while she aspires to dance on Broadway.

GENRE:
dance, drama
Distributor(s): JVC (Japan)
20th Century Fox (USA/ English-speaking territories / South America)
Dino DeLaurentiis Communications (DDLC) (Italy)
Tobis Filmkunst (Germany)
ARP Selection (Auteurs/Realisateurs/Producteurs) (France)

CAST AND ROLE
Joe Sheridan
Josh Lucas ... Stephane
Mia Frye ... India Rey
Rodney Eastman ... Isaac Thierry Ashanti

CREW AND CREDIT
Luc Besson Producer
Luc Besson From idea
Thierry Arbogast Director of photography


Many thanks to Newgene for the scans.