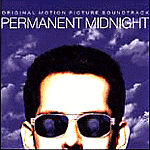 USA - 1998 Director - David Veloz
Permanent Midnight: Original Motion Picture Soundtrack is the soundtrack to the film adaptation of former television writer Jerry Stahl's sardonic 1995 autobiography. The movie follows Stahl's career rise, subsequent addiction to heroin and eventual recovery, revealing the frequently comic aspects of his story along with its blacker moments.
The Permanent Midnight soundtrack captures the euphoria, desperation and hope inherent to the film's subject matter. Showcasing rock, dance and trip-hop, the album boasts Everclear's Art Alexakis (in his first solo turn), Prodigy, The Crystal Method, Spiritualized, Moby, Girls Against Boys, Morcheeba, Black Lab, Embrace, BT, Spring Heel Jack and Lael Alderman.
The Permanent Midnight soundtrack will be released by Critical Failure, the film music label operated by "Permanent Midnight" co-producers Don Murphy and Jane Hamsher (who served as executive producer of the soundtrack), in conjunction with Geffen Records.
"Permanent Midnight" stars Ben Stiller (in the title role), Elizabeth Hurley and Janeane Garofalo. It was written and directed by David Veloz (co-writer of 1994's "Natural Born Killers", which was co-produced by Hamsher and Murphy). Jeff Rabhan served as the film's music supervisor. Produced in partnership with Artisan Entertainment.
---
Permanent Midnight - Original Soundtrack
---
1. Now Is The Time (Permanent Midnight mix) - The Crystal Method
2. EPR - Girls Against Boys
3. Get Miles - Gomez
4. Horses - Black Lab
5. Suite From Permanent Midnight - Free Radical + Paul Hepker
6. Overwhelming - Art Alexakis
7. Cigarette - Lael Alderman
8. Godspeed - BT
9. Honey - Moby
10. A Permanent Theme - Spring Heel Jack
11. Smack My Bitch Up - Prodigy
12. Take Your Time - Spiritualized
13. Tape Loop (Diabolical Brothers mix) - Morcheeba
14. Free Ride - Embrace